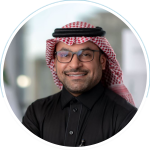 Versatile, accomplished, resourceful professional with 14+ years of rich leadership experience mainly with government entities as well as with the leading and very well-known company in the private sector such as AEC in Saudi Arabia. Professionally competent with postgraduate qualifications and certifications in Organizational Leadership, Engineering Management, Business Process Management and Project Management. Extensive experience in the management of mission critical assignments in improving, updating and automating business processes to deliver substantial improvements in organizational performance and productivity. Deft in building and sustaining productive stakeholder relations as well as leading and motivating cross-functional teams eliciting superior performances. Proactive achievement driven professional with strong work ethic, integrity and excellent communication, coordination, problem solving, decision making, planning and execution skills.
Founded a leadership development firm, Lead In, in 2019 with a vision to indiginize best leadership and coaching practices in Saudi Arabia in association with leading global universities and academe.
Strategic partner of a creative and dynamic IT services firm, Hour Solution, providing branding, web designing, e-commerce and social marketing services.
Business Process Management
Training and Coaching Skills
Project Management & Operations
Continual Improvement Programs
General Manager Branches – Endowment
Assets and Services Centers Network 
AWQAF
2022 – Present
Director of Support Department
Branches Affairs 
Ministry of Housing
Government of Saudi Arabia
2019 – 2021
Develop and implement strategic plans to improve the overall efficiency and effectiveness of operations of the various branches of the Ministry.
Formulate action plans ensuring effective planning, execution and monitoring of programs for development and delivery of housing products like villas and plots of lands to citizens.
Create standard operating procedures (SOP) covering all key business activities of the Ministry to ensure consistency and high quality in services delivered to customers.
Plan and mobilize resources and provide required logistic and administrative support for activities related to licensing of housing products.
Contribute to the development of business strategies as well as in adopting appropriate technologies to automate key business processes.
Build and manage dashboards to monitor performance and support departments in resolving issues related to visibility and bottlenecks.
Head of Supervision and
Control of Real Estate Sector
Ministry of Housing
Government of Saudi Arabia
March 2017 – January 2019
Participated in the establishment of the Real Estate Qualification Administration division in the MOH for supervision and control of the real estate sector with three main objectives – regulating and enabling transactions among stakeholders – tenants, landlords and real estate brokers – in the rental process; improving performance of the sector and raising its contribution to gross domestic product (GDP) and minimizing illegal activities as well as tenancy related lawsuits.
Supervised day-to-day operations of the division including scheduling and organizing field inspections of real estate organizations to identify violations and implement corrective and preventive actions.
Received complaints from clients relating to rental practices, reports on illegal activities, breaches by broker offices as well as cases referred by other ministries, coordinated investigations and followed up corrective actions and imposition of penalties.
Participated in policy advisory and change process ensuring compliance of applicable policies with guidelines of the Ministry.
Implemented required processes and procedures in real estate offices ensuring proper registration of all contracts and maintenance of updated broker database for reference by various stakeholders.
Business Operation
Support Manager
Ministry of Commerce & Invesment
Government of Saudi Arabia
March 2014 – May 2017
Managed business process improvement initiatives to improve efficiency and effectiveness of business support departments – trademarks, commercial names, commercial registration, commercial agencies, free professions, real estate offices and sale by installments.
Conducted field inspections of real estate offices to identify violations and followed up for implementing preventive and corrective actions.
Developed and implemented a unified document for standardization of business processes across offices of the ministry in KSA and created awareness among stakeholders through communications in the public media.
Built and maintained a database for collating and reporting overall performance against KPIs of various departments and well as employees.
Introduced IT applications for various key business processes maximizing productivity in line with the strategic objectives of MCI.
Established short-term departmental objectives and assigned tasks & responsibilities to staff for optimum utilization and rightsizing of resources.
Developed, updated and implemented internal trade policies and procedures to maximize output and deliver all predefined goals.
Drove programs for continual improvements in business processes by deploying Lean Six Sigma and Process Lifecycle methodologies in collaboration with 3 leading global business management consulting firms.
Supported business development by enabling improvements in market regulations, building relations with new organizations as well as researching and presenting opportunities to the management.
Project Manager 
International Affairs
Ministry of Labor
Government of Saudi Arabia
May 2013 – May 2014
Managed planning and execution of international projects in the domains of labor systems, market opportunities and knowledge transfer to benefit the Saudi labor market by building professional relationships with other countries.
Worked with a leading global management consultancy firm and established a Global Advisory Board which leveraged senior labor market experts from around the world enabling adoption of best practices in the Saudi labor market.
Collaborated with international labor organizations and agencies on matters related to award entitlements, recognitions and accreditations.
Operation and
Control Repair Planner
Advanced Electronics Company
Saudi Arabia
March 2009 – April 2013
Dealt with planning and controlling for maintenance and repair activities for a major avionics repair project as well as several industrial repair projects contributing to achievement of agreed business outcomes.
Coordinated a Lean Six Sigma Project on improving purchase cycle time in AEC in addition to regular responsibilities (2011 – 2012).
Received Certificate of Appreciation for successfully representing the Materials Management Department in the Fikrati Program (2011) and Letter of Appreciation for continuous participation in and contribution to initiatives leading to success of both OE and AEC (2010).
Industrial Engineer
FNSS Defense Systems
Maintenance and Upgrade Center
for Royal Saudi Land Forces
Saudi Arabia
January 2009 – March 2009
Participated in tasks related to planning, scheduling and monitoring of maintenance of M113 armored vehicles, modification of methods, design changes as well localization of spare parts by developing vendors in the Kingdom.
DEGREES AND CERTIFICATIONS
1. International Business & Economics, Essential Management Skills, Human Resources Management, Strategy & Operation, Finance & Accounting, Marketing & Communication, International Business Management Institute. Berlin Germany 2020.
2. Study Visit for Saudi Officials, World Intellectual Property Organization (WIPO), 2015.
3. Strategic Thinking & Planning, Meirc Training & Consulting, 2012.
4. Value Stream Mapping, American Society for Quality (ASQ), 2011.
5. Business Management Process (BPM) Professional, BP Trend Associates, 2010.
6. Supply Chain Management, Optiway Global, 2010.
7. Advanced Business Writing Skills, 2010.
8. Project Management Professional (PMP) courses – 35 professional development units each, 2009 & 2011.
Nationality: Saudi
Language: Arabic, English
Phone: + (966) 505483280
Address: Riyadh, Saudi Arabia
Email: [email protected]
Web: http://anasalfozan.com